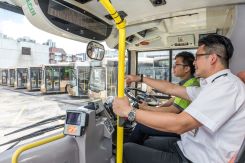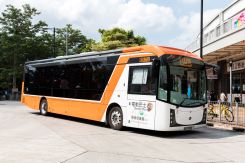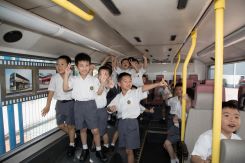 Corporate Social Responsibility Initiatives
TIH's group companies KMB and LWB are committed to fulfilling their social responsibilities and aim to deliver excellent public transport services in a sustainable manner. Over the years, we have taken steps to invest resources in the three major areas of "Safety First", "Care for the Environment" and "Care for the Community", and have received a number of awards, including the Gold Award in the Transport and Logistics category of the 2018 Hong Kong Awards for Environmental Excellence ("HKAEE") from the Environmental Campaign Committee, the 15 Years Plus Caring Company Logo from The Hong Kong Council of Social Service and the Award of 10,000 Hours for Volunteer Service from the Social Welfare Department.
Safety First
Safety is our number one priority:
All KMB depots adopt ISO45001 Occupational Health and Safety Management System


KMB and LWB are ISO9001 certified for their Quality Management Systems. Both companies have been accredited with the latest version of ISO9001


A number of technological devices have been incorporated on buses to improve safety and record operational data. All buses undergo an ISO-certified maintenance regime


We make use of different channels to boost public awareness of safety matters, including visiting schools and the community, and broadcasting a series of safety messages in the bus compartment to remind passengers to hold the handrail at all times


The Bus Captain Training School provides comprehensive basic training for all new bus captains, including a safe driving mind-set, bus maneuvering skills and bus route knowledge. The school also offers a series of training courses for in-service bus captains. These include route training, remedial training and bus type training as well as refresher training. Bus captains are thus able to upgrade their driving skills and enhance their safety awareness. KMB and LWB also conduct safety forums, at which Driving Instructors discussed accidents and incidents with bus captains and share suggestions on safety measures with frontline staff


Care for the Environment
Our environment-friendly bus fleets are driving us into a new era:
KMB's two largest depots are ISO14001 certified for their Environmental Management Systems


We use Near Zero Sulphur Diesel, renew the bus fleet with the latest low-emission models and upgrade older buses by retrofitting exhaust treatment devices


KMB and LWB strive to improve environmental performance by exploring various kinds of renewable energy and zero-emission technologies, including introducing eBus and gBus


KMB introduced an in-house developed solar power system installed on double-deck buses. The first batch of buses equipped with a solar panel was deployed in October 2019


Care for the Community
We take steps to understand the needs of our community and support various societal initiatives. We leverage the Group's business strengths and resources to optimise positive social impacts, mainly through engagement with elderly people and nurturing youth development.
The volunteer club FRIENDS OF KMB ("FRN") has promoted environmental protection, civic education and social service activities since it was formed in 1995


KMB launched the Donation of Used and Retired Bus Programme in 2016 to nurture the next generation of students and show our support for sustainability and recycling


KMB sponsor and participate in a variety of local community programmes, including charity walks and marathons, as well as taking part in The Hong Kong Council of Social Service Caring Company Patron's Club


To share festive joy with the elderly, we distribute red packets, Chinese sausages, rice dumplings and mooncakes during traditional festivals