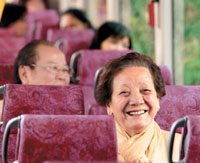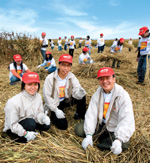 Corporate Social Responsibility Initiatives
By implementing a range of sound policies and rules, Transport International maintains the highest standards of corporate governance, and ensures that the corporate decision-making process is carried out in a professional, open and systematic manner. Across all aspects of the Group's operations, the mission is to combine provision of quality customer service and awareness of community needs. Transport International's community and sustainability efforts have been recognised internationally. The Group is a component company of the 2006/07 Dow Jones Sustainability Index, which measures the economic and social dimensions of corporate sustainability.
The Group's community outreach programmes, carried out through its operating companies, are designed to support young people, the elderly, the handicapped and other people in need, through sponsorship of Government and charity-backed activities. The Hong Kong Council of Social Service recognises the Group as a "Caring Company", while the Community Chest of Hong Kong named KMB as its "Fifth Top Donor" in 2004.
Transport International's community programmes include the following ongoing initiatives carried out by its operating companies:
FRIENDS of KMB, KMB's passenger club, was founded in 1995 to promote a spirit of helping each others within the community. With a membership that had grown to more than 3,100 in 2009, the club continues to participate in a variety of community building, civic, educational, environmental protection and social service activities.


The "KMB and You, Heading for a Greener and Brighter Future" Award, rewards candidates who receive Grade As in ten subjects in the Hong Kong Certificate of Education Examination. The award is designed to promote the importance of education among young people, ensuring a solid foundation for future generations.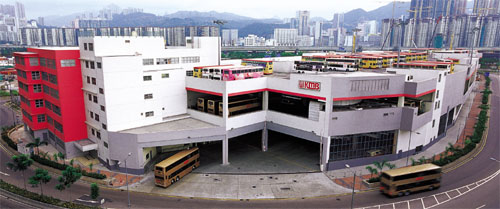 Transport International is committed to ensuring that its vehicles not just comply with, but surpass international environmental standards. Employing innovative technologies and equipment, the Group's companies are industry leaders, driving the green movement in the transport sector. Examples of such technologies include the following:
Ultra Low Sulphur Diesel ("ULSD"), which significantly reduces exhaust emission levels of sulphur oxides, and particulates, is used in all KMB and LWB buses. At present, the Group has the largest bus fleet in the Asia-Pacific region using ULSD.

All KMB and LWB buses are equipped with environmentally-friendly Euro engines, which are in compliance with the exhaust emission standards of the European Council of Environmental Ministers.

KMB has worked together with OEMs to develop the Eco-Driveline, which reduces fuel consumption and exhaust emissions by 6-10%, over and above the levels obtained by a conventional engine, while providing passengers with a smoother ride.