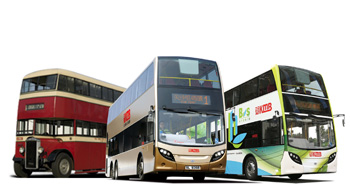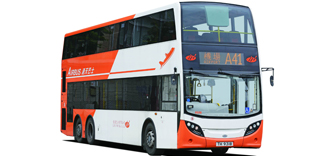 Company Overview - Franchised Public Bus Operations Division
The Kowloon Motor Bus Company (1933) Limited ("KMB") KMB, the Group's wholly-owned flagship subsidiary, has been providing extensive public bus services across the territory almost 85 years. KMB serves approximately 2.8 million passenger-trips a day on its fleet of around 4,000 buses. Its workforce of around 12,000 employees, including some 8,600 bus captains, is dedicated to providing the best service to its customers.
With close to 85 years of experience in operating franchised public bus services, KMB sets its sights on long term operational excellence. The accreditation which KMB has obtained for different aspects of its operations, including quality management, environmental protection, and occupational health and safety, testify to the company's commitment to establishing the highest standards of operational excellence.
Long Win Bus Company Limited ("LWB") LWB's ridership continued to grow in 2017, boosted by the increasing number of travellers using Hong Kong International Airport and the developments established or under construction in the Airport area and Tung Chung. With its wide network coverage, LWB remains well placed to capture the business potential arising from business and leisure travellers, from those who work at the Airport and from those requiring transport to and from the construction sites for the Hong Kong-Zhuhai-Macao Bridge and the housing projects in Tung Chung.